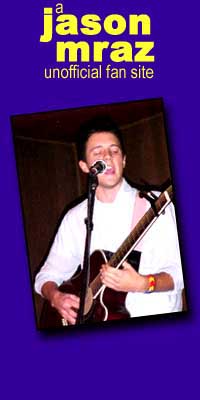 Yearbook of Jason Mraz Fans

Rachel's Yearbook Entry (One found!)


Rachel
from Melbourne
I am a female with Blonde... ish hair and Blue eyes.
My birthday is on January 10, 1987
which makes me a 32 year old
Capricorn
.
This is how I got into Jason Mraz:
Well, a long time ago (in a galaxy far away)I was on an Orlando Bloom board and saw a girl's sig with some guy called Jason Mraz on it. Unfortunately at the time I thought nothing of it. He stayed on her sig and she posted a lot, so I remembered the name. Then on Sixfeetsmall (a John Mayer board)people were sharing their fan art and one girl did some of the WFMRTC cover. Again, stupid me, I thought nothing of it. Yesterday I, being a lover of Maroon 5, followed a link from their website to jasonmraz.com and read his bio. He seemed so original and cool that I couldn't help but download a couple of songs. Now I am addicted and on the weekend I am going to look for his album.

Additionally, I'd like to mention to other fans:
Yep............. oh, you want to know what it is? Ok. Well, I am in dire need of someone new to talk to, so anyone who wants to talk about Jason Mraz (or anything to do with LOTR, Maroon 5, Viggo Mortensen, Orlando Bloom, Powderfinger, Pete Murray, David LaBruyere or John Mayer, if you're interested) or just wanna chat, EMAIL ME! ...please


This entry has been viewed 1863 times since
Sunday, February 22, 2004.
Add My Entry to Yearbook