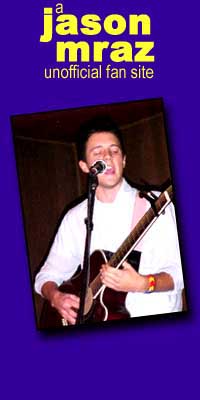 Yearbook of Jason Mraz Fans

ash's Yearbook Entry (One found!)


ashvina aka ash
from PJ, Malaysia
I am a female with black hair and brown eyes.
My birthday is on September 29 which makes me a
Libra
.
This is how I got into Jason Mraz:
me, oh well, i heard the remedy on a whim (downloaded it, by chance, actually) got taken by the raw honesty of this guy;s voice...and decided to d/l his stuff..you and i both is my fave, the live version, mind you...he's great, i really mean it.... touches you for real, cos he's not trying to...you can hear him love dinging, and the words he writes...mmmm, thats it...


Additionally, I'd like to mention to other fans:
take this guy,and tuck him away. don't let the world peturb the fact that his music, is beautiful.... he's too good for that.
jason mraz, his music at least, deserves an unsullied listen. be fair, and do not judge it. just love it, like i do...


This entry has been viewed 1918 times since
Wednesday, September 03, 2003.
Add My Entry to Yearbook