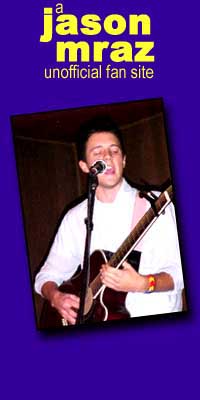 Yearbook of Jason Mraz Fans

Stephanie Belen's Yearbook Entry (One found!)


Stephanie Belen
from Corona, CA
AIM:
FeeferSchleefen
I am a female with black hair and dark brown eyes.
My birthday is on June 9, 1989
which makes me a 29 year old
Gemini
.
This is how I got into Jason Mraz:
Back in 2002, I went to visit family in the Philippines. While stuck in heavy traffic, I figured I'd turn on the radio. Gosh, Filipino music can be such a bore. Then I turned to some American-music-playing radio station. Then, some song with the lyrics, "But he sleep all, sleep all day, sleep all, we sleep all day..." comes on, and I'm thinking, "Holy geebus, I think I'm in love!" So when I got back to the states, I looked up the lyrics, found Jason Mraz, got a copy of the CD, and listened to it every day since then, all while I slobber over how beatuiful he was. (And still happens to be.)

Additionally, I'd like to mention to other fans:
You all rock because you chose Jason Mraz. High fives, people.


This entry has been viewed 1631 times since
Sunday, May 22, 2005.
Add My Entry to Yearbook