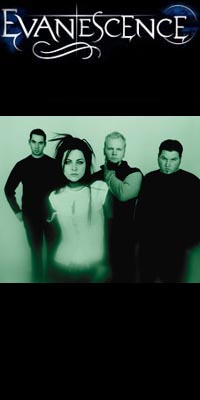 Yearbook of Evanescence Fans

Rapier's Yearbook Entry (One found!)


Cassandra aka Rapier
from Long Island
I am a female with dark brown hair and brown eyes.
My birthday is on December 11, 1986
which makes me a 33 year old
Sagittarius
.
This is how I got into Evanescence:
My sister became obssessed with a song ont he radio. I fianlly heard it and I liked it too. However neither of us knew the title or the band. Then during Drawing class two years, the song came on the radio (we're allowd to in in art classes). I asked people if they knew the title and the band. It was "Bring Me to Life" by Evanescence.

Though I loved Bring Me to Life", I never became any more intersted in Evanescence. I heard and loved "My Immortal" when it came out, but still, not much interst. Then a friend of mhy sister lent her the CD Fallen since she liked "My Immortla" and "Bring Me to Life". We listened to it and immeditly loved it! We normally don't listen to such musci, but how could anyone not love it, especially Amy Lee's voice. We liked every song and loved the songs "Tourniquet", "Whisper"and "My Last Breath". We soon bought our own copy.

After find AMV.org, we downloaded various anime music videos to Evanescence songs. it was form this site taht we learned about songs not on Fallen or Anywhere but Home such as Solitude, Forgive Me, Away Form Me, and the cover of Thoughtless.

So yeah, that's my story, rather lenghty, but I love this band and I can't wait for their next album.

Additionally, I'd like to mention to other fans:
My favorite songs in no particular order are Whisper, Thoughtless, Forgive Me, Tourniquet, Solitude, Holding My Last Breath and many others. I never thoguht I'd be interseted in a band like Evanescene, but I'm glad I gave them a chance. I love the entire band, especailly Amy Lee's voice.

You know something? I realized that many people that love anime also love Evanescence. On AMV.org, a goo majority of the videos are to Evanescence songs.


This entry has been viewed 1438 times since
Saturday, May 7, 2005.
Add My Entry to Yearbook