The Jilted Angel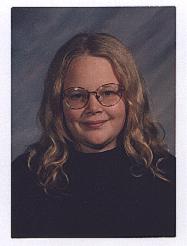 Emilia Garvey
Champaign,IL USA



IRC Nick Daria

I was born on Sunday, April 1, 1984 which makes me a 35 year old Aries.
I am a female with Blonde hair and Blue eyes.


---
My Jewel Story:
Although I heard Who Will Save Your Soul for the first time in August of 1996*I totally forgot about it. Then I was watching Casey Casems Top 50*Videos and he said "We'll be right back with Jewel". I thought with*a name like that she must suck. Then I heard the song, and I*remembered how much I had liked it. Soon after I heard YWMFM on the*radio and although I recognized it as Jewel, I thought it was WWSYS*and I kept waiting for the chorus! Eventually I just decided that*I liked Jewel and that she was my favorite singer. Yep. Thats how I found out about her.
Comments:
Well, I love the list. All of you! Wma, wma wma. *those are kisses**I started the monkey spanking club thread(anybody remember that one?)*by posting about counting crows. And if anyone does remember that,*I did get into the school I was taking the test for.*Also, any bootlegs would be majorly appreciated!
This page has been viewed 619 times since updated Thursday, January 18, 2001.
---
---