Armagaddon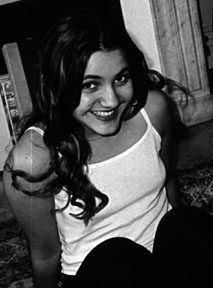 Sarah Cohen
Paris, France



IRC Nick angel or Drake

I was born on Tuesday, October 21, 1980 which makes me a 38 year old Libra.
I am a female with Multi-Colored hair and Blue eyes.


I joined the EDA mailing list in January, 1997
---
My Jewel Story:
Last summer in my camp in Vermont, there were a lot of people who had great voices, and so I got to hear "I'm sensitive" and other Jewel songs, without ever knowing that they were by Jewel. Then on day my boyfriend brought me over a CD player and told me to listen to the songs"Little sister" and "Foolish games". I was totally enthralled, and kept listening to them over and over again. Then I got my own CD, and worshiped Jewel on my own (no one knew Jewel here, until I lent them My CD that is :). And then one day I stumbled on the EDA list.
Comments:
She writes touching and troubling lyrics, which, when she lends her voice to them, generate in me this unreal feeling ....
This page has been viewed 1544 times since updated Wednesday, January 17, 2001.
---
---