Virtual Angel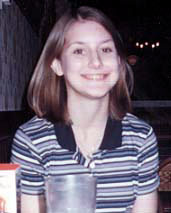 Suzy Smith
Houston TX USA





I was born on Tuesday, March 21, 1978 which makes me Aries.
I am a female with Blonde hair and Green eyes.


I joined the EDA mailing list in February, 1998
---
My Jewel Story:
I finally noticed Jewel when someone was playing
her album Pieces of You. I got hooked by the song
"I'm Sensitive." I felt like I could really relate
to it. After listening to the rest of the album,
I was a fan!
Comments:
This whole EDA thing is really amazing....
This page has been viewed 620 times since updated Thursday, January 18, 2001.
---
---