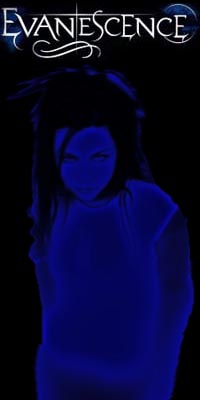 Yearbook of Evanescence Fans

Babberz's Yearbook Entry (One found!)


Kammi aka Babberz
from "Modesto"
I am a female with Brunette/blonde hair and green/other eyes.
My birthday is on October 23, 1988
which makes me a 30 year old
Libra
.
This is how I got into Evanescence:
At first I justlistened to it because my best friend listened to it. Plus, it was on the radio, so, ya know. Then My 'best friend' slowly stopped, because she listened to it every day, and after a while, she heard it to much. So when I had them playing, she would get mad. Well, then she moved away without telling me, and when I found out, she lied about where she moved to, so I figured it was about time I shoukld think for myself. So I changed back into me. Evanescence has inspired me to write my own songs, and it has related so well. Always I have people telling me of an Evanescence song that reminds them of me. The usually tell me I should get free front row tickets to every concert, because they are always singing just for me. Then when I heard my friend who thought I had a perfect life tell me she thought "My Immortal" reminded her of me, it was wonderful knowing that finally she understood that I am not The cheery little person I always was anymore, and that I have my problems too. Every day I used to dance in the rain. When it didnt rain, I'd just dance in the streets. She said to me that the saddest day of her life was the day she didnt see me dancing. I've been crazy about the group since it first started, but I had my problems...

Additionally, I'd like to mention to other fans:
This group is wonderful. Anyone who deny's it is probably no friend of mine, since this IS my group. Lol. But really now, just the sound of the music kinda wakes people up, and helps them realize whats up. So wake up people! Evanescence has come!


This entry has been viewed 1264 times since
Thursday, April 29, 2004.
Add My Entry to Yearbook